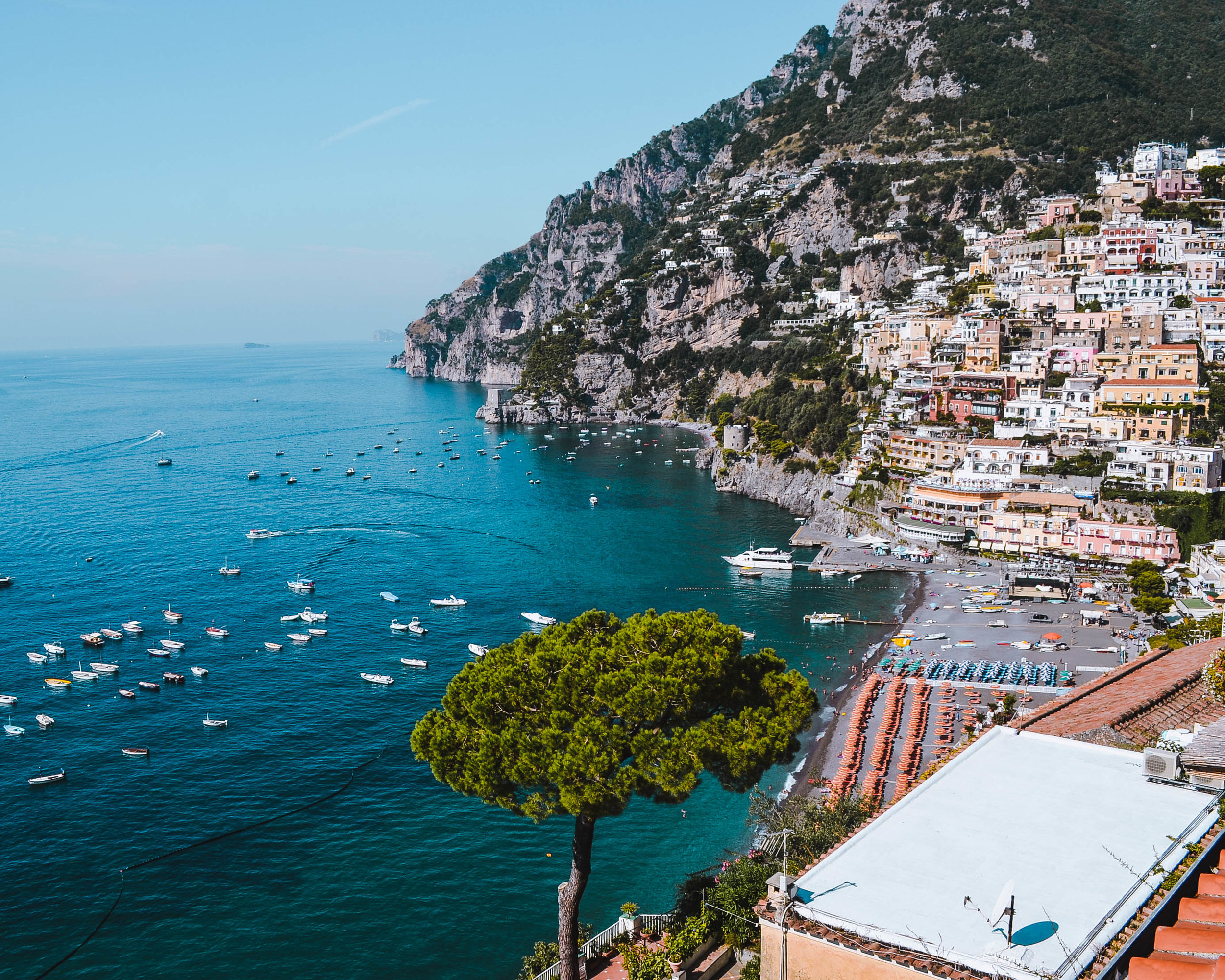 The Ultimate Guide for traveling Italy, arguably one of the most beautiful places in the world with much to offer any curious traveler!
How to travel Italy
This guide includes what to expect when traveling Italy, what food to try, activities to consider, as well as more tips and inspiration for your trip!
Italy is one of the most popular countries to visit in Europe, and it's no secret why: it has a vast history in western civilization and the Renaissance period, a huge role in art and fashion, and is one of the major food capitals of the world.
The language sounds like music and Italians are always dressed in high fashion daily. The landscapes are stunning, filled with rolling green hills and colorful, sun-kissed buildings.
After studying abroad in Italy for six weeks in college, and being based there for work at a travel company after college, I've spent my fair share of time living in and traveling throughout magnificent Italy.
Quick Tips for Traveling Italy
Currency: Euro
Language: Italian
Visas: Make sure to look up whether or not you need a visa to enter Italy as a tourist. For US citizens, there is no tourist visa requirement for up to 90 days in Italy as well as traveling to other countries that are also in the Schengen zone.
Where to stay: There are many charming boutique hotels throughout Italy as well as super nice hotel chains with great views in good locations. Booking.com is my preferred hotel search site as you get the lowest prices and honest reviews and ratings. You can also opt for an Airbnb to get a more local feel.
Transportation - trains: Traveling by train is my preferred travel method in Italy. Trains are very reliable and I love watching the beautiful countryside out the window. You can get a regular regional train which has many stops, or if you're traveling between the big cities there is typically a fast train option. Fast trains are more expensive but worth it in my opinion as you save a lot of time!
Transportation - cars: Alternatively, renting a car is another option. Read up on rules for driving before you go, know that some people call Italian drivers "crazy" (haha), and if you're staying in a city like Florence or Sorrento with narrow roads and small, limited parking spaces, make sure to opt for a smaller car like a Fiat or Mini Cooper.
When to go to Italy: The high season for tourism in Italy is in the summer months of June, July, and August. However, since Italy is such a popular tourist destination, lines can get long and crowds can be very heavy during this time. My favorite time to visit Italy is during the shoulder season - April, May, and September. Due to the Mediterranean weather, most of Italy tends to have a mild climate in the spring, summer, and autumn with a chilly winter. The northern parts of Italy like Milan and cities near the Dolomites Mountains will be very cold in the winter.
Afternoons in Italy: During "siesta" (the period between lunch and dinner), most restaurants will be fully closed. This time period is typically between 2:00 pm - 7:00 pm. You may be able to find restaurants serving "aperitivo" before dinner begins at 7, which is where you get a glass of wine and light snacks/appetizers served buffet-style.
August in Italy: Since August is the standard summer vacation month, don't be too surprised if you see stores closing early around 7 or 8 for summer hours, or restaurants fully closed and to re-open in September. Don't worry if your trip is in August, however, as August is still a popular tourist month and this doesn't apply to all places of business.
Top Cities to Visit in Italy
Rome - major historical sites (go at sunrise to beat the crowds), The Vatican, big city
Florence - best food (in my opinion), Renaissance art, capital of Tuscany
Venice - gondolas and famous for being built on water, heavy tourist traffic
Amalfi Coast - absolutely beautiful region only a couple of hours south of Rome with pastel cliffside homes and coastal views, can get pretty crowded in the high season
Milan - fashion capital, only 1-2 hours south of Lake Como in Northern Italy
Sicily - southernmost part of Italy and has its own unique feel and culture
Stay in one city or travel multiple?
There is so much to do and see in Italy that most will never "see it all" in one go. It is best to determine what your must-sees are and take it from there. For example, is it your first visit? More than likely you'll want to see the Colosseum and The Vatican Museum in Rome, the Duomo and the statue of David in Florence, and ride on a gondola in Venice.
Or perhaps you want to be there simply for the culture and feel, and enjoy sipping prosecco or wine in one place. The food and wine are not to be beat in Italy, and I'm not just saying that!
In the spring, summer, and (very early) autumn, coastal areas on the Mediterranean are amazing. You can visit popular Amalfi Coast in the south or Cinque Terre near Florence, or hop over to other towns along the water. A lesser-known beach stay off the coast of Tuscany is Elba Island, which is a quick ferry ride from Piombino.
Book a Place to Stay in Italy
My all-time favorite booking website is the well-known Booking.com - I've used it for years all over the world.
It is the easiest way to search and find the best hotels (hostels too!), especially based on reviews. I always check the reviews on Booking, even if it's a name-brand hotel. You never know!
Common itineraries for traveling Italy:
Here are some popular itineraries for traveling through multiple cities in Italy. Don't feel like you have to cram it all in within a week or two; there is so much to do and see, even if you return to the same place every time!
North to South - classic/most common: Milan, Florence, Rome or Venice, Florence, Rome
Tuscan Adventure: Stay in Florence and take day trips to Cinque Terre, Siena, Pisa, and wineries in the countryside
Amalfi Coast: Fly into Rome or Naples and stay in Sorrento or Positano; visit the island of Capri for a day
Art & History: Florence and Rome
Fashion Fun: Milan & Florence
Also read: How to Plan a trip to Europe: Sample Travel Itineraries
Food in Italy
Pasta. Pizza. Gelato.
Ribollita. Pesto. Wine. Prosecco.
And SO much more.
Eating real, authentic food in Italy will by far be the best Italian food you've ever had. And I can guarantee that. ;)
Italy Bucket List - Top Activities in Italy
Have you been to Italy? How many of these have you done yet?
1. Wine tasting in the Tuscan countryside
2. Uffizi Museum - Florence
3. The David statue at the Accademia - Florence
4. The Duomo (main cathedral) in cities such as Florence, Milan, Sienna
5. The Vatican and St. Peter's Basilica - Vatican City
6. Boboli Gardens - Rome
7. The Colosseum - Rome
8. Trevi Fountain, Pantheon, Roman Forum - Rome
9. Walk through Cinque Terre ("five towns")
10. Visit the Leaning Tower of Pisa
11. Boating on the coast - Italian Riviera, waters of Capri…
12. Hike in Anacapri, Capri
13. View the incredible iconic view of the houses on the water in Positano, Italy
14. Take a gondola ride in Venice
15. Get out of Venice and visit nearby Burano and Verona
16. Go south and see Sicily
17. Go north and visit Lake Como
Check out sites like TripAdvisor for more ideas!
Italy Travel Tips
Every single article posted on Go Seek Explore about Italy!
Here's what I use and recommend for those working abroad, who travel often, and especially for those who work online at home or on the road!
MY ALL-TIME FAVORITE LUGGAGE
AWAY Carry-on luggage (I am absolutely obsessed with my AWAY bag)
Tumi carry-on duffel for under the seat
"MOBILE" OFFICE
NICE TO HAVE
Wireless noise-cancelling headphones
External hard drive (to back up photos/videos and other files)
Clothes & Accessories for Europe:
Save this for later on Pinterest: