Italy has arguably the best cuisine in all of Europe, and you'll find the Italian staples all throughout. While you can find delicious pizza and pasta anywhere in Italy, exactly where in Italy can you find the best? Italians truly believe that food from their home town is the greatest in all the world, so it's best to try the region specialties in the areas where they came from. If you're heading to the boot-shaped country to "eat your way through Italy," consider this your personal road map.
Pesto - Liguria
While the five towns of Cinque Terre (that lie in the Liguria area) are mostly known for their picturesque olive groves and homes along the beaches, the pesto from this area is hard to beat.
Pasta - Everywhere
Okay, being totally honest, pasta anywhere in Italy is simply amazing. Even the 3 euro plastic bags of pasta from the grocery store  are good!  Everything from typical noodles like penne and spaghetti or stuffed pastas like ravioli are bound to be of the best quality. Top it off with sauce, of course!
Limoncello - Amalfi Coast
Limoncello is an Italian malt liqueur made from lemons that comes from the Amalfi Coast of Italy. It's mainly used as a sweet finish to the end of a meal. You can find the lemon groves around the Amalfi Coast, which also make for great photos if you're in the region.
Pizza - Naples
Pizza is a staple throughout Italy, though it originates in Naples. While other countries have their own take and flair on pizza, you'll find the most original and authentic pizza in Naples, a city along the west coast of Southern Italy in the Campania region.
Florentine Steak - Florence
You'll typically find Bistecca alla Fiorentina on restaurant menus for at least 40 euros per plate - but its rich, tender cut makes for a flavorful meal.
Wine - Tuscany
Ciao, Chianti! The Tuscan region was made for wine. Taste some different blends while you're in this region, and I highly recommend doing wine tastings to nearby Tuscan towns and traveling by train or bus. You'll try some of the best wine in the world as well as find views of the mesmerizing countryside scenery in this region.
Cheese - Everywhere
You can find Italian formaggio anywhere in the country, and anywhere it's going taste fresh and amazing.
Tiramisu - Venice
This is one of Italy's most famous desserts, and if you're going to have tiramisu, you might as well try it in Venice, where it originates from.
Pane Toscano - Tuscany
You'll find unsalted bread served with your meals, especially in the Tuscan region. However, the bread isn't served as a bread-and-olive-oil appetizer; its intended use is to mop up the leftover sauce from your pasta.
Bruschetta - Lazio
Lazio (home to world-famous Rome) is also home to bruschetta, toasted bread that's topped with olive oil, garlic, salt, and tomatoes.
Ribollita - Tuscany
This thick vegetable and bread soup also comes from the Tuscan region. It's served warm and is comforting on a chilly day.
Seafood and other meat dishes - Sicily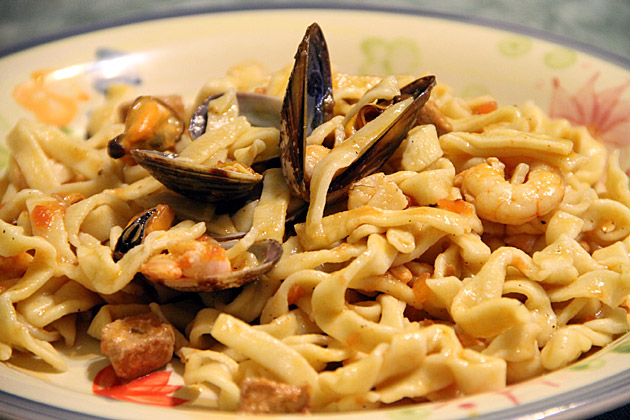 This southern region of Italy is surrounded by water and takes culinary influence from many other cultures due to invasions from years past. Some typical dishes you'll find are swordfish or sardines, or a meat dish such as vitello al Marsala.
Polenta - Northern Italy
Along with risotto, rice, butter, and corn, polenta is more popular in the north than some pastas and olive oil (though you'll still find pasta and olive oil here)!