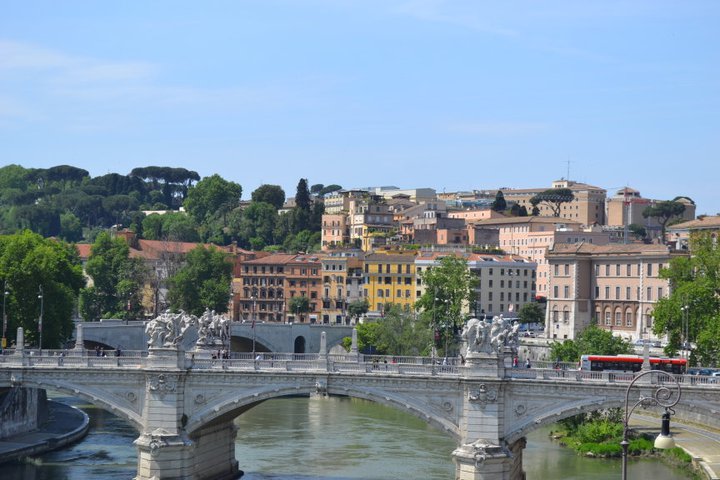 My first time going outside the United States was to Florence, Italy for a summer study abroad program in college. It was one of the most memorable experiences of my life and it fueled my love for travel. My life would be very different had I not taken the leap to go in the first place. Going abroad was one of the best decisions I have ever made - and I've broken that down into reasons why below.
First time out of the country
The only notions I had of other countries were what I had seen in photos or movies or read about in books. My jaw dropped in amazement the second I stepped foot in Rome and watched the Italian architecture go by out the bus window. It was incredible, beautiful, and blew my expectations away. And this was before I had even made it to the Colosseum!
Just enough organization for my first trip abroad
Our classes were already set up, we knew we'd have pensioni (housing) during the duration of our stay, our flights coordinated with the opening tour in Rome, and we would all meet up at the airport upon arrival to go to the hotel and welcome dinner. Classes were Monday-Thursday in the mornings and after our 3-course lunches at our pensione, we had the rest of the afternoon off to explore Florence and long weekends to travel to other places if we so desired.
Had a home-base
When we traveled on weekends, it was so nice to be able to bring only what I needed and to leave the rest at the pensione. This ensured our backpacks would fit in tiny Ryan Air carry-on restrictions and we didn't have to bring everything with us everywhere we went.
Safe
I felt safe throughout the duration of my study abroad. Florence is very safe (just mind the pickpockets in touristy areas) and there were always people to walk home with after dark.
Applied classroom learning to travel and other cultures
Since summer session was just two classes, I took the opportunity to get some core/marketing classes out of the way. Even with those classes, the professors made a point to tie parts of the lecture to what we were experiencing abroad. Other classes, like Italian language, the arts, or religion had outings around the city - physically seeing what you're learning about in person enhances the experience so much more.
New friends
I was able to make friends with people outside my regular "friend group" back on campus in the States. It was refreshing to meet new people, and when we returned to campus that fall, we had that shared experience in common. And I'll never forget my roommates - we had so much fun!
Problem-solving
Traveling occasionally comes with complications. I'll never forget when a big group of us went to Elba Island and on Sunday night when we were making our way back to Florence, found out that there was a bus/train strike that day. After walking miles back and forth to different stations, we were about to camp out in the station for the night when a random bus pulled up. We were able to make it to Pisa, and then get on an extremely crowded bus back to Florence late that night. (And just in time to get a few hours of sleep before a few of us gave a presentation in marketing class!)
When situations like that happen, you have to figure out the best solution, and when nothing seems to be going your way, make the best of it. At least it will make for a good story later on, like the time they found a bomb in the Pisa airport and I didn't go to Barcelona.
Studying abroad is a unique travel experience
Going abroad for school is a unique travel experience. Even if you've traveled abroad before with family, solo, or with a group of friends, the experience is so much different. With study abroad you get to have a home base, some structure/routine with classes during the week, opportunities to travel more (since you'll likely be there longer than if you just went on vacation), and opportunities to make friends and memories that will last a lifetime.
---
If you're on the fence about studying abroad, I highly suggest you do it. You only have so many years in college have an experience like this. Throw away the excuses and just go for it.