Three amazing countries. Three very different countries. But they all hold high spots on my travel bucket list. Here's why:
Thailand
Thailand is the top destination for travelers to Southeast Asia. It's been called a "backpacker's paradise" due to being very inexpensive, in close proximity to neighboring countries, and endless things to do. From the white sand beaches to the jungle, to the bustling city of Bangkok, so much draws me to "the land of smiles." And the food! My mouth waters every time I read about or see photos of authentic Thai food. I already love the Americanized Thai food I eat at home, so I can't imagine the deliciousness of authentic Thai food. And as someone who enjoys sun and warm weather year-round, Thailand sounds like the perfect paradise.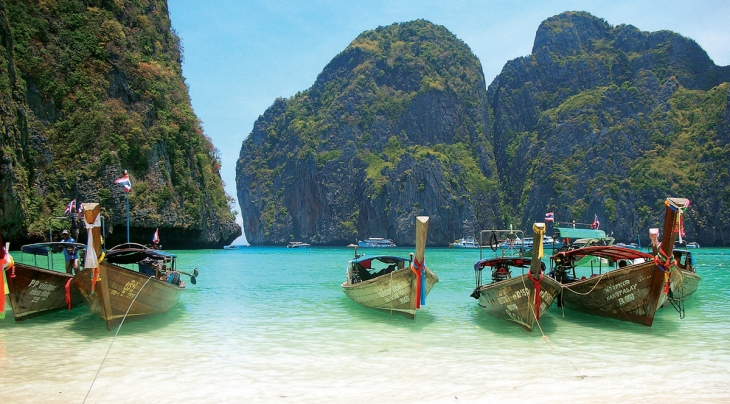 Other blog posts about Thailand to check out:
11 Reasons Why I Love Thailand by Nomadic Matt
I Choose Travel by Heart My Backpack
Koh Samui Nightlife, Waterfalls, and Burlesque by Hippie in Heels
South Africa
I've had a number of friends who rave about South Africa from their travel experiences or time spent living there. The beauty of Cape Town I see in photos never ceases to amaze me and hiking Table Mountain is a dream of mine. I'd love to take a hot air balloon ride, visit Johannesburg, and go on safari to spot wild animals that I've only seen in the zoo as a child. The South Africans I've met have been nothing but extremely friendly, and I'd only expect the same when visiting the country firsthand.
Other blog posts about South Africa to check out:
Must-Dos For Any South Africa Trip by Go Seek Explore (guest post)
My First Time On Safari by World of Wanderlust
Iceland
I've been trying to plan a stopover in Reykjavik with Iceland Air so many times while going to Europe, but wasn't able to make it happen due to various reasons. The isolated northern island country has always intrigued me. What are the people like? What do they do in their spare time? A friend recently had a quick stopover in Iceland and her photos of all the natural beauty made my wanderlust for Reykjavik even stronger. Oh, and seeing the Northern Lights would be pretty cool too.
Other blog posts about Iceland to check out:
37 Reasons Why You Need To Visit Iceland Right Now by Bored Panda
25 Reasons Why You Should Peace Out and Go Photograph Iceland by Buzzfeed
Have you been to any of these countries? I'd love to hear your stories and travel tips!