As summer transitions into pumpkin spiced latte season, the time has begun to plan winter trips. If you're heading to Europe later this year you should definitely consider adding Switzerland to the list. The land of chocolate, fondue, and picturesque mountains provides plenty to do during the fall and wintertime. Most importantly, it is a haven for extreme sports enthusiasts.
Adventure sports you can do in Switzerland this winter:
Skydiving
Is there any better view than the Swiss Alps as you feel the adrenaline rush from jumping out of a plane? Answer: Not really. Skydiving is a little pricey in Switzerland (then again, everything is pricey in Switzerland), but the beautiful views and the heart-pumping experience itself will make up for it.
Paragliding
A little less intense than skydiving, paragliding offers the option to float in the air and take in the views surrounding you.
Canyon Jumping
Canyon jumping (off of a canyon swing) is supposedly one of the fastest yet exciting ways to feel that adrenaline rush. You stand on a platform, all securely tied in, and step off. You'll free fall into the canyon for about four seconds until the ropes swing you back and forth like a pendulum as you lose momentum. Interlaken, Switzerland is only one of two places in the entire world where you can canyon jump (the other is New Zealand).
Here's a video of what it's like.
Skiing/Snowboarding
If you're an avid skier or snowboarder, then you must not pass up the opportunity to do so on Matterhorn while on the Swiss Alps.
Snow-shoeing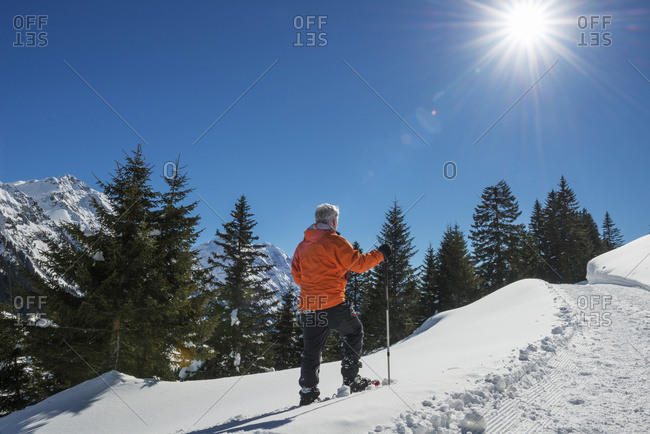 Get some exercise and climb up the mountains in snowshoes. This is a great alternative to skiing or snowboarding as you'll still get to spend time on the mountains.
Night Sledding
This is known to be somewhat dangerous (there is little light), so take precautions and book with a reputable tour company before you go night sledding! Get a chance to go sledding and feel the crisp air whip past as you zoom down on the snow.
Ice Skating
Ice skating is definitely not an "adventure sport," but if you've had enough adventure for the day or extreme sports aren't of interest to you, then skating is a fun and low-key option.